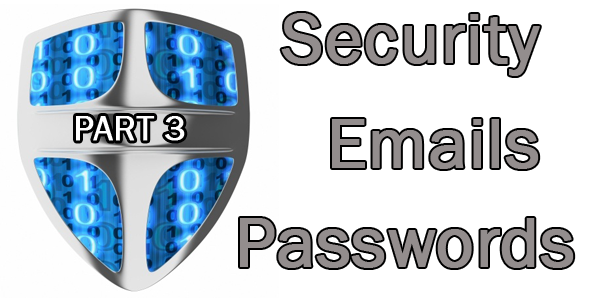 Passwords Part 3
Ok let's pretend that you have one passphrase that you are using for every site you log onto. Maybe it looks something like this:
grandmascookies
Earlier wisdom would say that you have created a long enough password but today that is not enough. Especially if you are using it on every site you go to. So let's apply our basic rules and see what we get.
9r@nDm@$(0oK13s
This looks long but you can use smaller words and remember that you will get used to it the more you use it.
Now lets insert what site we are logging into. EBay for starters.
9r@nDm@$/3B@Y/(0oK13s
9r@nDm@$/i7/(0oK13s ... iTunes
9r@nDm@$/F8/(0oK13s ... FaceBook
The key is to remember your basic rules and apply them to your inserted site name too. You can change this to put the site name in where ever you want but I like two key words with the site in the middle. And it does not matter if you know that I like that, because you don't know what rules I have put in place. That is the beauty of getting into a workflow with your passwords. It looks daunting to type but make it your own. Your accounts and information are really important. So we don't need anyone rifling around in them.
There is one more piece to the puzzle we must discuss as it is the key point to your overall online security habits.
We will talk about that tomorrow.